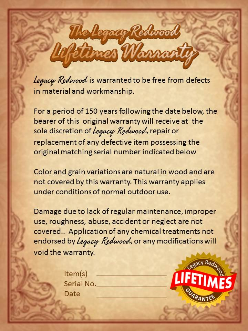 O
ne lifetime is just not enough for

Legacy Redwood

, which is why every piece of outdoor furniture is accompanied by our exclusive

L

ifetimes

W

arranty.
True to its name,

Legacy Redwood

is designed to be passed down and enjoyed by the next generation.
Master-crafted using

only

100% true heartwood and the most meticulous old-world methods,

Legacy Redwood

is guaranteed to provide beauty and service for more than 150 years with only a minimal amount of care and maintenance.